.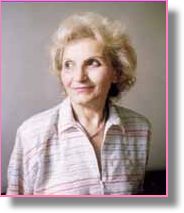 Dushka Todorova
She is one of the famous children composers. She is writing a lot of songs, musical stories and children's musicals .She has written a beautiful child's poem

"Peter's heart" by text of the great Bulgarian poetess Dora GABE.
Her songs had been singing with great pleasure by children because they live over in the images which the composer was created.
The children's audience like D. Todorova songs suddenly and remember them for a long time as the songs:

"The sparrow in boots"

"Cherries" ,

"Son's presents ",

"Blueberries" , and so on and so on...
It is one of the line intonation that is very warm, tender and clear.


"Getcho & Detcho" - it's a musical story full of very childish mood. It tells about two bear cubs that steal much honey. What is happened after all you will understand when you hear the CD "Children songs and story of Getcho & Detcho" .
(This CD is issued in very narrow-minded circulation)
"Getcho & Detcho" DTJ. All rights reserved.

---

Text of the story "Getcho and Detcho" is write by the talented Bulgarian poet - Tono Lazarov.
High Quality Downloads - MP3 Audio
- HERE!!!
---
Visit the NEXT site D.Todorova to see VIDEO samples!
---